If you want to know more about the Alzheimer's disease, click on these web sites
---
Here is a number of sites dealing with Alzheimer's disease (if you click on this link, you will vote for the 'gallery' participating to the classification).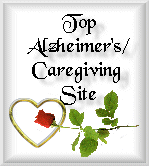 Research Forum
This forum is about Alzheimer's disease and was created to give informations to scientific community. It has for goal to facilitate exchanges between researchers.
Alzheimer's Disease Ressource Page
IN FRENCH LANGUAGE
French Alzheimer's Association
Website of the French Alzheimer's Association, which I am member of.
'Touraine Alzheimer'
This website is especially for families living in the French area 'Indre et Loire' but it contains many informations about the disease too. Moreover its layout is carefull. Its pages deserve to be visited !
Alzheimer Europe (France)
This website goes about events and medical seminars through Europe.
Belgian Alzheimer's Leaguee
This website was realized by Alzheimer Europe. It presents the Belgian Alzheimer's League and its different services. A training programm for adults caring about patients suffering from Alzheimer's disease is also presented on this site.
Swiss Alzheimer's Association
This website was realized by Alzheimer Europe. It presents the Swiss Alzheimer's Association, its members and the different services existing in Switzerland. The Swiss Alzheimer's Association publishes regulary brochures called 'Alzheimer's inifos' dealing with the specific aspects of Alzheimer's disease (as for example : 'First steps of the medicated therapy against Alzheimer's disease', 'Do Alzheimer's patients suffer ?', 'Do mentally ill patients have a soul ?', 'About sexuality (testimony)...'). Some extracts of these publications will be soon available on this site. It is still possible to get these brochures by contacting the association.
'L'Institut Aveyronnais de la Mémoire'
This association leads actions for continious training for doctors and people working in health care facilities, about the theme of memory. It contributes to the development of a net in the area for the managment of people suffering from memory impairement.

'INSERM Unité 422 de Lille'
(National Institute for Health and medical research)
This website deals with research about cerebral ageing, Alzheimer's disease and other related diseases.
'Le CHU de Rouan' (Rouen Hospital)
This site has a great data base and gives many links to French sites dealing with neurology.

Pharmacology course about Alzheimer's disease
By Doctor Oussama Zékri – Laboratory of experimental and clinic pharmacology – University of Rennes – 2, av. Du Pr Léon Bernard – 35043 Rennes Cedex

Site of the pharmaceutical journal
It disposes of a search engine giving the possibility to find press articles about Alzheimer's disease.
---
© Zothique